I am linking up with Sunday Social again. I think her questions are always so fun! Feel free to go to her site, grab the button and play along! My husband's Fantasy Football draft starts soon so I'll be away from my computer until that's over. He gets so serious about it too. Savannah and I will probably continue getting organized for the movers until we go out for dinner. I can't believe this is our last Sunday here, time is certainly flying!!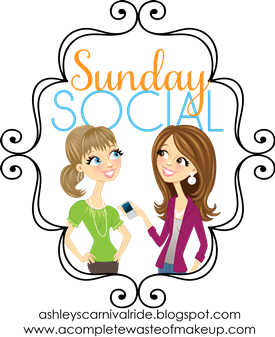 1. If you could only eat one thing for the rest of your life, what would it be?
That's tough. I think I'll have to go with sushi and Chinese/Japanese food.
2. What's your guilty pleasure/comfort food?
My guilty pleasure would be a Snickers bar and an ice cold Coke. My comfort food would be homemade mac n cheese.
3. What's the weirdest/craziest thing you've ever eaten?
I tried octopus once and it wasn't that bad. Very chewy!
4. What foods do you avoid at all costs?
Chitterlings, because I hate the way they smell when being prepped. I also can not stand boxed mac n cheese, sorry Kraft.
5. What meal reminds you of your childhood?
There are so many. My Mom is an excellent cook. Beef stroganoff is definitely at the top of the list. I would also have to say homemade burgers. My Mom makes the
best.
Lastly, I would have to say
Chewy Cake.
It is delicious!
6. Share one of your favorite recipes and the story behind it.
I'm gonna go with
Chewy Cake
again. It changes lives, haha!